Multifunctional entryway cabinet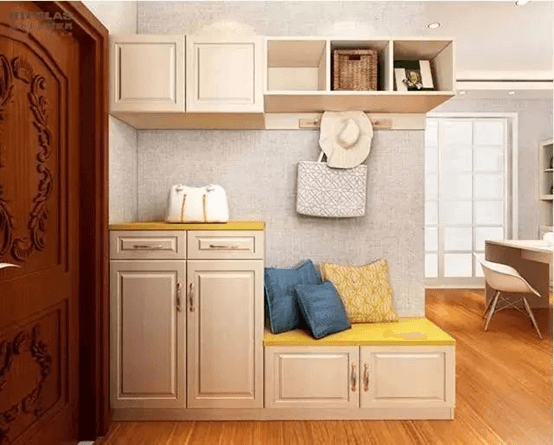 Entryway cabinet storage function is very important, if the space is very small, you can try this two-section layout in the picture. The wall is divided into two sections, the upper half of the hooks or shelves for hanging clothes or placing miscellaneous items, the lower half of the shoe bench, shoe cabinets, used for changing shoes and storage. The depth of the shoe cabinet does not have to be very deep, 30-60cm can be, as long as you can put down shoes on the side. The internal partition of the shoe cabinet is best to be able to move, so you can flexibly adjust the height of the internal space.
If the entry space is large and you want the entrance area to be functional and more holistic, you can also integrate the entrance cabinet and shoe changing area together and make a one-piece entrance cabinet through the roof.
Overall design of living room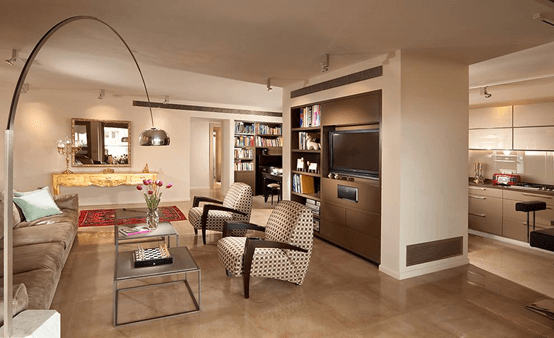 Living room space can use the TV back wall, sofa back wall custom a whole storage cabinet, storage capacity is sufficient and atmospheric. It is important to note that open storage shelves are carefully chosen, and it is recommended to install cabinet doors, which can avoid dust on the one hand, and look neat on the other. Both sides of the sofa to increase storage space, it can be convenient to sit down to pick up items, some small objects, can be placed here.
The top of the large closet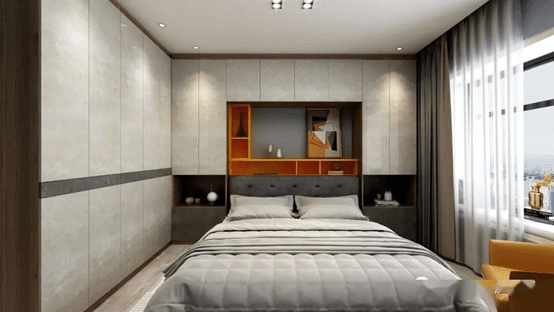 Choosing a closet to the top can make the bedroom more fresh and beautiful and practical. The closet to the top, does not leave a hygienic dead corner, but also can store some out-of-season quilts and so on, have more storage space, is to help you have a minimalist home tool.
Special area storage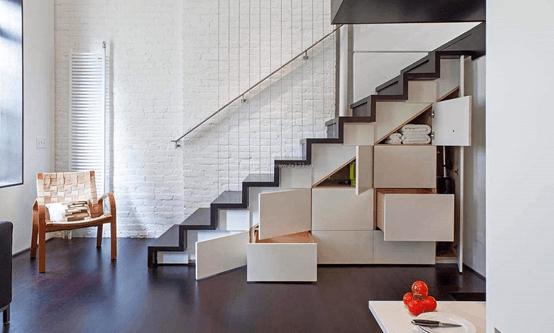 For duplexes with staircases, the space underneath the stairs is also of great value and we can make fuller use of this area for storage. The most common is this type of chest of drawers, which turns the space under the stairs into multiple small spaces with drawers to sort and store various types of small items. Or make it into a storage room to store some hygiene and cleaning supplies.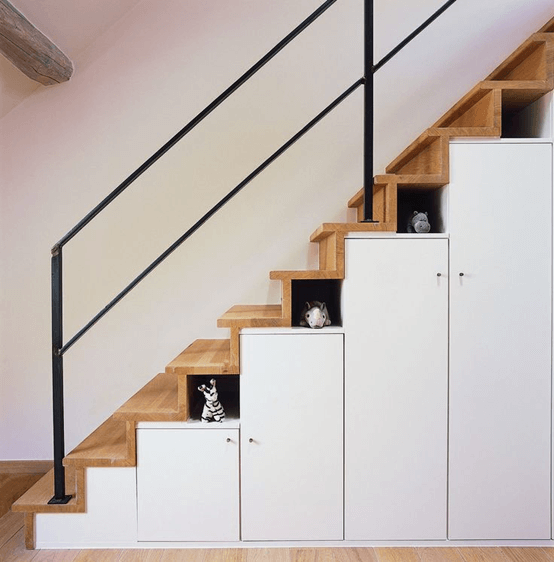 If you like the more uniform and clean style of the façade, you can let the cabinet without pull handle and the staircase blend into one, abandoning the superfluous decoration, which can make the space look more concise and beautiful. Ordinary hinged doors, pull-out cabinets, etc., can be made into small checkrooms inside them, so that clothes, bags and shoes are properly stored and taken away at a glance.